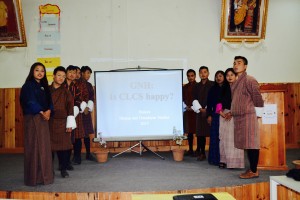 Bhutan and Himalayan Studies (Honors) students in collaboration with Bhutan and Himalayan Research Centre (BHRC) organized a presentation to examine whether CLCS functions in line with the principles of GNH. The presentation titled 'Is CLCS Happy?' was held on 20th November 2017, and individual student presented their findings acquired through their research project.
Individual student were assigned a single GNH domain – Good Governance, Health, Ecological diversity and Resilience and so on – and asked to do a small-scale survey on their respective domains within the college campus. The presentation highlighted some intriguing facts about CLCS: the research project revealed that the prayer system in the college is enhancing the psychological well-being of students while student's social etiquette was also revealed to be highly favourable. However, some domain such as community vitality showed unrated performance of the institution.
The research project undertaken by the students was to ensure the students get first-hand understanding of GHN and its domain and indicators through the critical examination of a surrounding they are familiar with. Additionally, the project also gave some constructive feedback to the college administration that could be implemented.
Deans, Administrative staff, faculty members and students attended the presentation.
By:
Pema Choden
BHS Honors
BHRC Student Intern