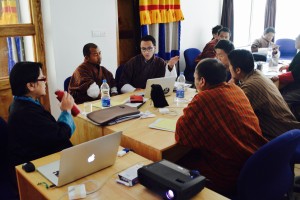 Bhutan and Himalayan Research Center under the College's research department organized a 3-day seminar on Research Proposal Writing and Student Thesis Supervision Training from 23rd November to 25th November 2017. The training was facilitated by Dr. Deki C. Gyamtso, with participants from faculty, students from BHS Honors class and members from Trongsa Traditional Health Section.
The training was primarily initiated to develop participant's comprehension on writing research proposal with a special focus on writing effective literature review, research questions and thesis statement/s. Additionally, the training also looked at data collection, analyses and presentation procedures. The program also familiarized academicians with guidelines for Postgraduate supervision. The training concluded with the award of completion certificates for participants.
Bhutan and Himalayan Research Center coordinator Sonam Nyenda said this training is the first in a series of research trainings that the center will be organizing throughout the next academic year, which will guide faculty researchers with their individual research projects.
By:
Sonam Rinchen
BHS Honors
BHRC Student Intern