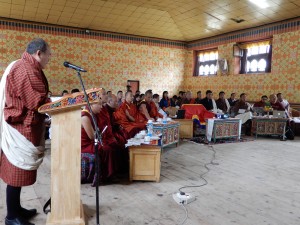 The first ever national conference on Buddhism began yesterday in Thimphu. The conference is part of efforts by the country's two major institutes for Buddhist studies to make Buddhism an easy subject to understand for all.
Tango Shedra and Taktse College of Language and Cultural Studies (CLCS) are collaborating to carry out research on everything that has to do with Buddhism.
The heads of the two institutions said Buddhism is perceived as a discipline of the monastic community or institutions. They said despite being Buddhist, not all Bhutanese understands the essence of Buddhism. Hence, many end up looking for spiritual well-being in materialistic objects.
"Spiritual well-being means I am able to see that my happiness, prosperity and well-being, to a large extent, is within myself and for that I have to look into myself," said Lungtaen Gyatsho, the President of Taktse CLCS.
He added that one does not necessarily have to be a monk or a nun to be able to realize that. "It can be anybody. Today, we see that whatever comes from outside is the object of our sensations."
Through research, the two institutions will help the modern Bhutanese understand Buddhism better. They will work towards reviving the Buddhist arts."We need strategies to teach or make the modern people understand Buddhism," said Khenpo Nima Shar of Tango Shedra.
"For example, to paint Buddha, we have the age old art and then there is contemporary art too. Of course it is easier to paint and draw it contemporary style but this can put the traditional painting and art of drawing at the risk of extinction. If we can advocate and teach the youth the traditional ways of painting and drawing, they can revive it."
The institutes will conduct similar seminars and publish books that would serve as a rich resource for Buddhist studies.
Source: BBS