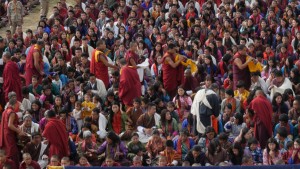 His Eminence Lhalung Sungtrul Rinpoche, the 11th reincarnation of Tertoen Pema Lingpa presided over the Annual Rimdro on 28th and 29th of August, 2017 in the College of Language and Culture Studies. The rimdro was attended by more than thousands of people including the family of CLCS, the sanghas of different monastery and the people of Taktse community.
The rimdro was organized by the student body with help from administration for the well being of the college and sentient beings as a whole.
The two days program started with Maewang or incineration rites on the night of 28th August, followed by Ganachakra Puja or Feast offering and Tse Wang or empowerment of longevity the next day. People who attended the rimdro were also served lunch by the students' of the college. The rimdo ended with a culture program organized by the college.